This is the story of
Lokorn Mad

…
Our story begins...
In 2020, we embarked on the Lokorn Mad adventure! It's an old dream that we made come true, by settling in Locronan, this small town full of history! Its cobbled streets and old houses give it a typical charm and receive many visitors.
Our wish was to anticipate customer demand by offering local products, from the short circuit, within a radius of less than 100km. We put passionate producers in touch with customers looking for quality and authenticity.
Our shop, located in the historic heart of Locronan, offers products on displays made of recycled materials, which create a welcoming and friendly atmosphere.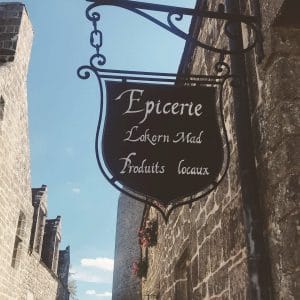 Long live the short circuit!
We go out to meet local producers, in search of quality and artisanal products. We create a bond of trust and often friendship with them, and are delighted to help you discover the passion for their work that drives them! Cider producers, fish canners, beekeepers, soap makers and many others trust us to distribute their artisanal products to our customers and to make their know-how known in and outside Finistère.
We also offer our own products (home-made jams, salted butter caramels, etc.), products distributed in a very, very short circuit!
Find all our products
in our shop in Locronan,
but also in our e-shop!